Food sampling is the process of collecting and testing food, ingredients, the environment, or other materials. Food sampling is commonly used to monitor or verify the effectiveness of control measures put in place to prevent, eliminate or reduce to an acceptable level the hazards that present a risk of contamination to food. There are many benefits of doing food sampling, especially doing it regularly as a routine for quality and safety control.
Food sampling can also provide assurance that incoming materials, finished products, and water meet food safety standards. Proper procedure of food sampling ensures that food safety and quality control measurements are an accurate reflection of the overall quality of the food product.
Food manufacturers and producers would need to satisfy themselves that any sample taken for analysis is sufficiently representative of the food for the analytical result to be meaningful. This is true whether the data are to be used as the basis of labeling declarations, assurance of compliance with legislative or other standards, monitoring of production as part of HACCP (Hazard Analysis and Critical Control Points), or for routine quality control.
Another benefit of food sampling would be boosting the confidence of your buyer and consumer to establish a trust that the products you produce and supply is already meet the right food safety standards and scientifically proven. Therefore build loyal customers to your brand.
How to Sample Picking Service
?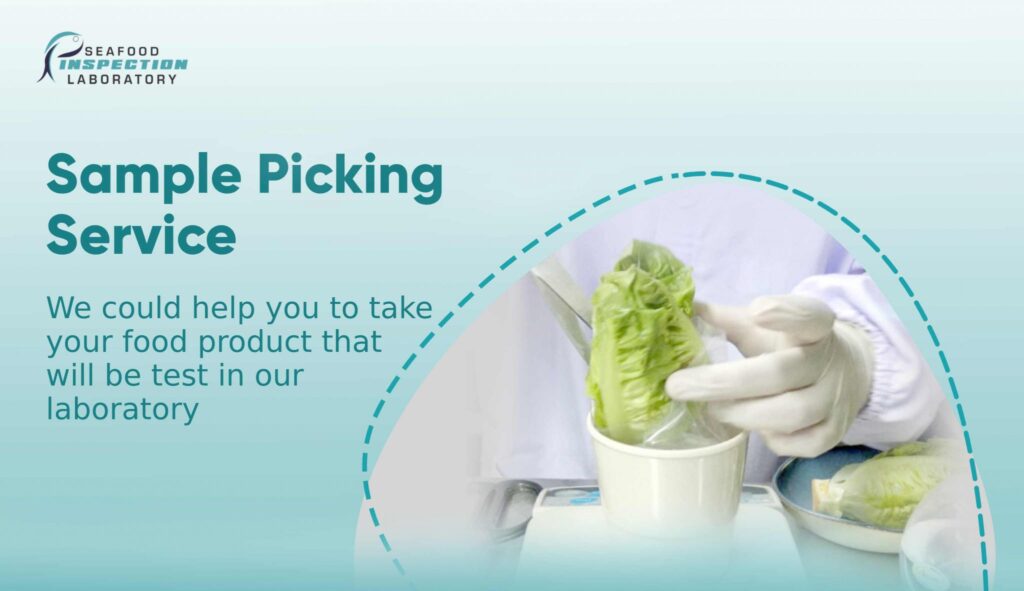 It is important to collect food samples that are representative of a lot or a food contact surface being assessed. It is also important to ensure that samples are not compromised when being collected, stored or shipped, as this could lead to inaccurate results.

PT Seafood Inspection Laboratory offers food samples picking services to let buyers ensure that laboratory received the actual production samples, and not 'selected' ones for testing. When your production is ready, appoint one of our inspectors to visit your factory and perform a random sampling selection of your products. For more complete quality control program, group samples picking services is available upon appointment.
Baca Juga : Sample Picking Service – Food Laboratory Based in Bali